History
Grapple is another former Champion of the Underground Bot Fight Arena. His arms can extend & retract at will or at command. This is to compensate for his sluggish movement patterns & agility & all the while allowing him to pin down enemies with ease. His hands also house Bio-Sonic Cannons that cause fatal damage at close range.
Capabilities
Upgrades
Ninja Cleaver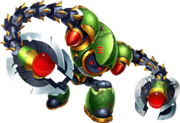 After his defeat at the Underground Bot Fight Arena, he underwent Stage 5 Reconditioning to keep up with the latest Bots' tech & functionality. He is capable of taking down enemy bots near & far using his arms. Ninja Cleaver is known to finish fights early as he sometimes goes berserk, brutally damaging opponents with his Enhanced Quadruple Cleavers & Bio-Strike Cannons, both housed on his hands.
Notes
See Also
Ad blocker interference detected!
Wikia is a free-to-use site that makes money from advertising. We have a modified experience for viewers using ad blockers

Wikia is not accessible if you've made further modifications. Remove the custom ad blocker rule(s) and the page will load as expected.