History
Mag is one of the first bots created to be used in combat. This bot was originally intended to serve as a household help bot. Uses magnetism in variety of ways such as being able to stick to walls.
Capabilities
Upgrades
Magnus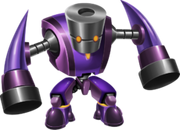 In order to be more efficient in bot fights, Mag had to be reprogrammed, given a new body frame & enhanced weaponry. Now equipped with Magnetic Hammer Arms, he is now able to hold his ground against other bots.

Magnatron
Upgraded even further to a higher tier combat bot, Magnatron can go toe-to-toe with many other bots of his league. He utilizes magnetism & dark energy by infusing them in his Magnetic Hammer Arms to smash through enemies.
Notes
See Also
Ad blocker interference detected!
Wikia is a free-to-use site that makes money from advertising. We have a modified experience for viewers using ad blockers

Wikia is not accessible if you've made further modifications. Remove the custom ad blocker rule(s) and the page will load as expected.