This is a list of teams in Marvel's The Avengers: Earth's Mightiest Heroes.
The Avengers
The Avengers is the mean team-they fight together as 'The Avengers' for some missions.
Team Beta
Team Beta is a team of
Iron Man
,
Wasp
,
Wolverine
,
Thor
,
Black Panther
, and
Ant-Man
.
They have two of the original Avengers (Iron Man and Thor), and four others are new Avengers.
Team Alpha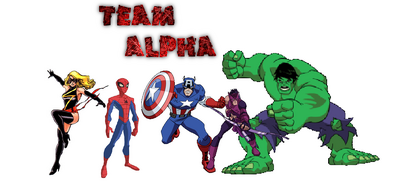 Team Alpha is a team of
Spiderman
,
Ms. Marvel
,
Captain America
,
Hawkeye
, and
Hulk
.
They have four of the original Avengers (Captain America, Hulk, Hawkeye, and Black Widow).
Black Widow is on the team, but is never battling, mostly gathering information for the team and spying on villians, so she isn't really a main character of Team Alpha.
MTBA
Ad blocker interference detected!
Wikia is a free-to-use site that makes money from advertising. We have a modified experience for viewers using ad blockers

Wikia is not accessible if you've made further modifications. Remove the custom ad blocker rule(s) and the page will load as expected.